2017 September 23rd – Mini Conference
September 23, 2017
Saturday 23rd Mini Conference is being presented at no cost except for Art Class. – Please bring a can of protein (tuna, chicken, peanut butter, etc) for the homeless. – Bring your own Lunch – Location will be at the 2nd and K building 680 Second Ave SLC.. Located between J East and K Street and 1st Ave N and 2nd
September 23rd Conference is being presented at no cost except for Art Class supplies
Saturday 23rd Agenda Location will be the 2nd and K building. (Subject to Change)
9:00-11:00 Pre-Conference Art workshops – Choose one of classes offered. Limited seating so register early
#1. Barbara Gustaveson – Water Color Class $5.00 fee Bring a hair
dryer
#2. Christopher Yancey – Sculptor
#3. Cynthia Bee – Creating a Water conservation landscape Garden
10:15-11:00 EAT AND MEET BRING YOUR OWN SACK LUNCH – MINGLE GET TO KNOW EACH OTHER GAME
11:00 Elder Gary J Coleman (A Lifetime of inspiration)
12:00 James B Mayfield former Mission President "What's really happening in the Middle East?"
1:00 Leslie Rees, Author (Ye Have Been Hid) Finding the Lost Tribes of Israel.
2:00 Theresa Sneed is an Author and writing coach.
3:00-3:30 Mingle with speakers and light refreshments
ENDING EARLY BECAUSE OF THE WOMENS SESSION OF CONFERENCE LATER THAT EVENING
Christopher Yancey - Sculptor
http://www.christopheryancey.com/about.htm
Chris is a Representational Figurative Sculptor with a Narrative style.
Chris has had a lifetime love of art. He has been drawing since he could hold a pencil, pen, marker or anything else that would make marks on the fridge, floor or wall. A common sight at the dinner table was Chris sculpting his mashed potatoes into fanciful forms. At the age of 12 he attended the ceramics class at the local boys club in Garden Grove, California, where instead of painting the premade ceramic figures he used the clay to create his own. It was at this age that he made his first art sale–a sculpted figurine of a mother and baby unicorn which he sold for $20 to his art instructor who gave it as a Christmas present for a relative.
In 2011, Chris had a chance encounter with painter Trent Gudmundsen and being kindred spirits they were immediately friends. Encouraged by Trent's success as a professional artist, Chris–who had never before thought he could make a living with fine art–began to have a paradigm shift. While hanging out in Trent's studio and discussing the paintings that Trent was working on, Trent commented, "Chris, you have a good eye for this, you ought to try oil painting." A month later in May–after buying some of Trent's old brushes and paints–Chris painted his first portrait of himself and his wife. Seeing the quality of the work, even knowing that Chris had never painted before, Trent told him that he could have a future in painting.
Realizing that a career in art was possible Chris put in his notice at work and became a full-time artist in July of 2012.
Chris enjoys the diverse challenges that both painting and sculpture offer.
Cynthia Bee - Creating a Water conservation landscape Garden
Creating a Water conservation landscape Garden
Introduction to Beautiful Regional plants for your yard or n planters
Elder Gary J. Coleman - A Lifetime of Inspiration
For More information on Elder Gary J Coleman
A convert to the Church, he was baptized in 1962. After serving in the Second Quorum of the Seventy since June of 1992, Elder Coleman was called to serve as a member of the First Quorum of the Seventy of The Church of Jesus Christ of Latter-day Saints in April of 1997. He served as a counselor in the Caribbean Area. He previously served as President of the Mexico North Area, and counselor in the North America Northeast, North America Southeast and Mexico South Area Presidencies. Since that time, he has been in five full time mission presidencies and served as president of the California Arcadia Mission, 1987-1990, and as president of the New York Rochester Mission in the spring of 1998.
LESLIE REES - Ye Have Been Hid Finding the Lost Tribes of Israel
The subject of the "Lost Tribes" of Israel has been of interest for generations. Especially is this true for members of The Church of Jesus Christ of Latter-day Saints because of the many references to them in the Book of Mormon and Doctrine in Covenants, in addition to the pronouncement of their fate in the 10th Article of Faith.
Incredible myths have abounded, and unfortunately sometimes been promoted in the religious classroom. None of the "hollow earth" or "on a star" legends, however, are as exciting and interesting as the truths concerning them set out in the scriptures.
This book is the result of some 40 years of study, and lays out the scriptural record of the House of Israel from its beginning through its history of captivity, journey to the "promised land," division into two kingdoms, subsequent defeat and captivity.
For the most part, those Israelites from the southern Kingdom of Judah retained their identity as Israelites, or Jews, while those from the northern kingdom were scattered, mixed among the Gentile nations, and most, eventually, forgot their lineage. All of this was foretold by the Lord's prophets, with their scattering, latter-day gathering, and then a restored identity to those who had forgotten it, clearly laid out.
The second half of the book is a collection of fascinating histories, traditions, and legends held by people from many countries of the earth tracing their family lines back to those northern Israelites we call the "Lost Tribes." They are found in China, Japan, Africa, the countries of the former U.S.S.R., the Middle East, North and South America, and many other places.
The book is a celebration of the Lord's kept promises to His people and a reminder of the responsibilities of all who are – or who become – children of Abraham, Isaac, and Jacob, the People of the Covenant.
Victoria Fielding - The Surprises That Helped Me Figure Out Who I am
Author of her novel "A Piece of Time" Fielding wrote this book as a means of helping young adults "who have no sense of who they are, no understanding of why they are on this earth, and no perspective as to where they are going." The heaven drawn by Fielding has strong overtones of LDS understanding of the afterlife, but is much simplified and not too different from the concept of heaven held by most Christian faiths. This book doesn't preach and it isn't meant as some kind of conversion tool, but introduces those going through rough times with no concept of hope or values to visualize possibilities. She works as the academic director at a residential treatment center for troubled teens. She holds a Bachelor degree in Fine Arts and a secondary teaching certificate. She lives in Utah with her family and is the mother of six children. She has two grandchildren, and hopes to have many more grandchildren.
Author Theresa Sneed
I'm Theresa Sneed, author of the No Angel series, the Sons of Elderberry series, the Escape series,  the Salem Witch Haunt series, and my first nonfiction books: So You Want to Write: A Guide to Writing Your First Book, and Facing Mortality: Dreams & Other Significant Things.
So You Want to Write: A Guide to Writing Your First Book
I've had many people ask me how to write a book. For years, I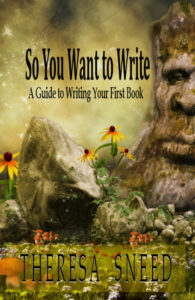 have added content to this website in response to that question, and so now I have compiled all of the answers into my first nonfiction book on writing. So You Want to Write: A Guide to Writing Your First Book is a short but informative book that takes the new author through fifteen steps from preparing a writing sanctuary to marketing. A